You found my shiny card!
I did not include any shinies I got to give to others.
Nonon the Lopunny

Nonon is named after Nonon from KLK! She was my first successful Masuda Method hunt.
SUPER SHROOM the Paras

SUPER SHROOM is another Masuda shiny, albeit unintentional. He's level 100 because I wasn't a fan of Parasect at the time.
Miracle the Talonflame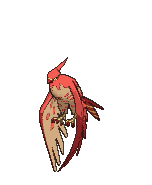 I encountered Miracle on the first route on X! Unfortunately, she got lost when I deleted my file.
Ira the Pancham

I got him while Pokeradar hunting, on the first encounter without sparkling grass!